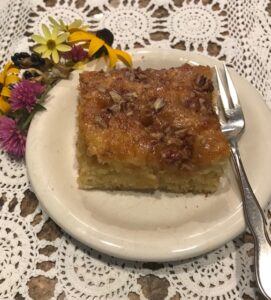 I found a super good Granny Cake recipe while trying to organize my recipe box. It's delicious! I haven't made it for years and shared it with friends and family. The recipe is at the end of this post. I've also included an easy paper clip craft for adults and children.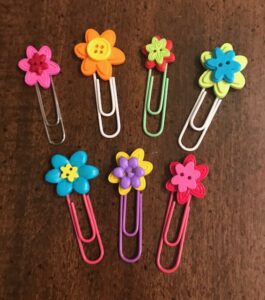 The paper clips would be great teacher or table favor gifts. They're fun and easy to do. Everyone needs a paper clip.
Supplies needed:
Coated or plain large paper clips
Flower buttons or buttons of choice
A strong glue like E6000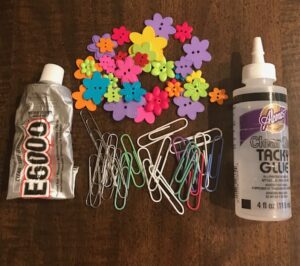 You can see my Granny Cake card has been well-used. I've typed the recipe below. A great potluck, birthday, or picnic cake.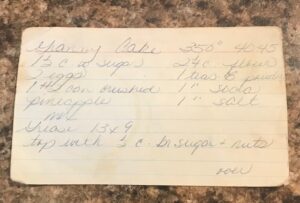 Granny Cake
 9×13 greased pan
 Oven 350 degrees
  Bake 40-45 minutes
1 + 1/2 cups white sugar
2 + 1/4 cups flour
1 teaspoon baking powder
1 teaspoon baking soda
1 teaspoon salt
2 eggs
1 20 oz. can crushed pineapple in juice
1/2 cup brown sugar
1/2 cup chopped pecans
Whisk sugar, flour, salt, baking soda, and baking powder. Stir in eggs and pineapple. Pour into a greased 9×13 pan. Top with brown sugar and pecans. Bake 40-45 minutes. Mine was done between 35 and 40 minutes. Test the center with a toothpick. When it comes out dry, cake is done.
A few minutes before you take the cake out of the oven, boil together 1/2 cup evaporated milk, 1/2 cup sugar, 1/2 cup oleo, and 1 teaspoon vanilla. Poke holes in cake and pour sauce over while the cake is hot.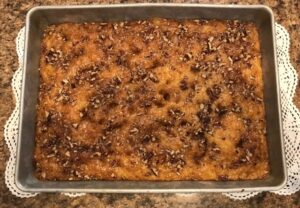 Enjoy!