I like easy crafts for children. Below I've listed supplies needed and directions to make these fun creations. They are inexpensive to create, and all of them can be tweaked. Have fun!
Egg Carton Crosses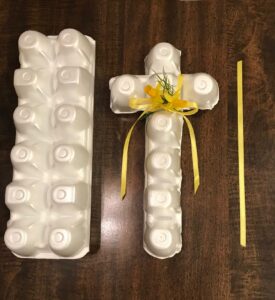 egg carton
ribbon
flowers
You can add a heart on top, paint cardboard egg cartons, or use an already tinted Styrofoam carton.
Paper Plate Sheep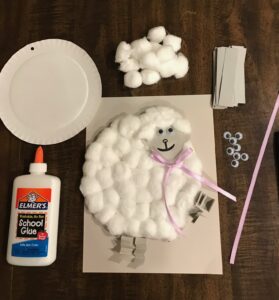 white paper plates
gray construction paper
ribbon,
googly eyes
Sharpie
glue
cotton balls
I trimmed my paper plate first. To make the legs, just fold a strip of construction paper accordion style.
Button Easter Eggs
construction or cardstock paper
glue
buttons
ribbon
paper punch
I used an Easter box to trace a sample.
Chick Easter Egg Holder
construction paper
toilet paper roll
glue or glue sticks
feathers,
googly eyes
plastic Easter eggs
jelly beans
Have a blessed Easter!