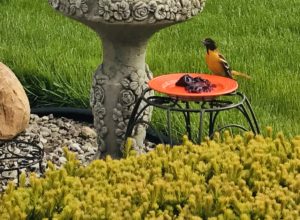 Throughout the year, I take great care to feed my variety of feathered friends. Summer is the busiest as many different species arrive in the spring and depart in autumn. Below are some ideas on how I have made my yard bird-friendly. I'm not an expert but these applications work for me.
An abundance of trees and bushes as birds seek good nesting sites and most species return to the same area year after year.
Water and food source
Colorful perennials and annuals attract hummingbirds, butterflies, and bees!
Consistency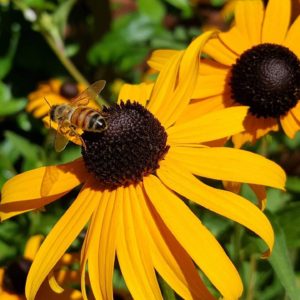 I fill two bird baths, one in the front yard another in the back. Some weeks in the summer, I'll rinse the bird baths twice during the day and fill with fresh water.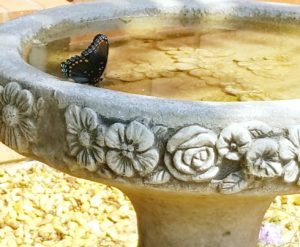 I keep my feeding station in the same spot, under a pine tree. I've had several hanging feeders but  the nocturnal animals such as raccoons tear them down. I've given up on that, but I do hang a small suet feeder and it remains in position.
I toss together a songbird country seed mix with black-oil sunflower seeds. I also make my own hummingbird nectar. One part sugar to four parts water, boil then cool, and fill a hanging feeder. Hummingbirds like red so you'll notice most feeders sport that color. I change the liquid every three to four days and wash the feeder to insure mold doesn't form. There are times in mid-summer I'm filling the feeder every day.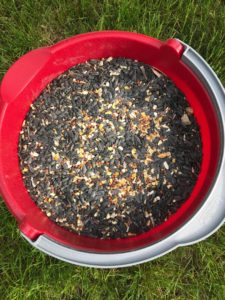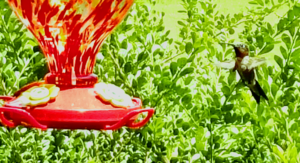 Thistle seed is expensive so just once in a while I'll purchase a small bag. I find the finches dip into the oriole's grape jam. I just drop a large spoonful of jam onto an orange lid or plate. Orioles are attracted to that particular color and also love oranges.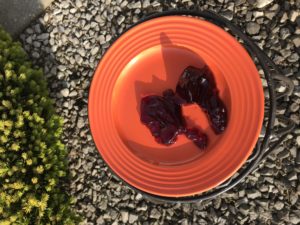 Sometimes I treat my feathered friends to my own homemade mixture–old bread dipped in leftover grease from bacon or red meat. I break it up, toss it out in the yard, and it's quickly retrieved. Since there is an abundance of flowers, fruits, and grains for birds during the growing season, they are well-fed.
In winter months, even after the snowbirds have headed south, I continue to feed my feathered friends. The blue jays and cardinals make a colorful display on a blanket of snow. I have a special fondness for mourning doves. They seem to settle at my place all year.
Tip:  Unsalted peanuts are a favorite of blue jays but watch out for the squirrels as the nuts will disappear quickly.
Sit, relax, and enjoy our feathered friends.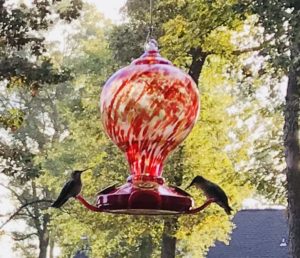 Birds 101 first appeared in 2017 on http://www.amyharkemoore.com