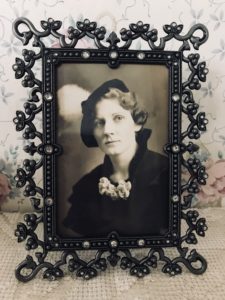 This was last year's Mother's Day post. I thought it would be nice to run it again.
Ma passed away several years ago at the age of eighty-seven. I never called her mom, mother, mommy–just plain old Ma.
She lived her life with a glass half-full, didn't complain about not having the luxuries of others, and worked until she was seventy-one. She could plant a seedling and it would shoot to the sky like the Jolly Green Giant. Her instincts for colors and decorating would have put her at the top of an interior design class.
She never had to throw out a meal (like me) because she turned everything into a chef's delight. Nothing went to waste–ever. Her cakes and desserts were moist to the taste, and a pot of Maxwell House Coffee sat hot waiting for the next visitor.
Ma taught us children about loving God, sharing, putting the needs of others first, and how to penny pinch. Being frugal was a lifestyle, wastefulness a no-no, and living by principles the only way to survive.
She called most every night before her bedtime to make sure the family was safe. This went on until she passed away.
Ma would stop by with flower shoots, decorating tips, and usually something we needed.
One year, she gave me some buttercup flowers to plant. For those who don't know, they spread like wildfires. But I dare anyone to remove a buttercup from my yard.
This Mother's Day I look upward to thank Ma for instilling the right stuff into our lives. And, maybe, we can view the world through her eyes.
Happy Mother's Day!
Her children rise up and call her blessed.
Mom's buttercups.