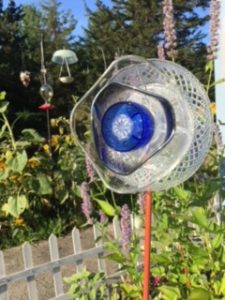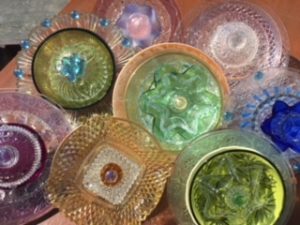 A charming addition to your flower beds, walkways, and yard is repurposed garden art. My friend, Debbie, creates unique designs from vintage glass she finds at rummage sales and thrift shops. These layered pieces sparkle amid a backdrop of colorful annuals and perennials. Nestled among summer shades, hummingbirds and butterflies become frequent visitors. Below is Debbie's shared design procedure.
I start with a variety of different colored textured plates, bowls, and candle holders. Then I decide which pieces look best together, beginning with the largest (minimum 3 pieces–I've used up to six). Once I have my pieces selected and design planned, it's time to start assembling the flower. I apply a good even bead of E600 glue to the back of the dish and press it firmly into place. I allow 24 hours for each glued piece to set before adding another dish. Once I've completed gluing and curing the flower itself, I take a small vase or spice jar and adhere it to the back. This allows me to display the finished art on a garden stake.
Maybe you would like to try a hand at making your own conversation piece.
Repurposed garden art is a great gift for gardening friends, grandmothers, mothers, aunts, and sisters.
You can view and purchase Debbie's designs at: http://bit.ly/debbiemomof4