Guest post by my friend, Amy Harke-Moore.
A Rural Girl Writes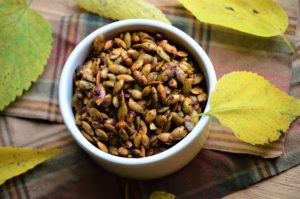 Spicy Pumpkin Seeds
Looking for something quick and easy to make with the kids? Something fall inspired? And maybe healthy, too? (Shhh. . . We don't have to tell them that part.)
How does a batch of spicy pumpkin seeds sound? The recipe is simple to make, and, in fact, you might want to double it. Here is what you need:
Ingredients:
1 cup of hulled, raw pumpkin seeds (pepitas)
1 teaspoon of chili powder
1 teaspoon of cinnamon
¼ teaspoon of cayenne
1 teaspoon of sea salt
4 teaspoons of sweetener (or sugar if no dietary restrictions)
4 teaspoons of coconut oil (liquid, not solid) or other oil
Directions:
Preheat oven to 350 degrees.
In a bowl mix seeds, oil, and spices well and spread evenly on a baking sheet lined with aluminum foil.
Bake for 10 minutes and let seeds cool before serving.
Enjoy!
Know what the second best part of making Spicy Pumpkin Seeds is? Sharing them with friends and family. Once they're cool, you can fill a mason jar with the seeds, add a bow, and surprise someone with a little autumn goodness.
Know what the best part of making these seeds is? Eating them, of course! Make a batch today and celebrate the season!
Want more ideas on how to savor fall? Check out "My Top Ten Must-do Fall Activities."
A Rural Girl Writes
http://www.amyharkemoore.com/top-ten-must-do-fall-activities/