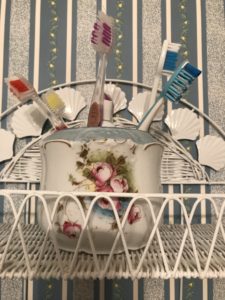 While dusting the towel shelf in my bathroom, I noticed the antique toothbrush caddy needed cleaning. It contains labeled toothbrushes for my grandchildren, nieces, and nephew–even an old tube of toothpaste. I dumped the toothbrushes onto a towel and lined them up in order, beginning with the oldest one's name down to the youngest.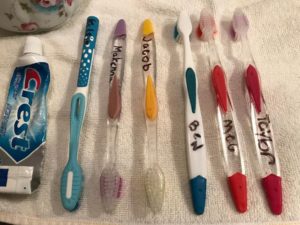 I chuckled remembering their younger years when they spent nights at my house, usually two at a time, pairing with their age related cousin. They had their own special bedroom which contained a dollhouse, bookcase, television, and a closet full of cars, trucks, and cherished toys. After they departed for home, I'd find candy wrappers under the bed.
The oldest grandchild recently entered college, and the others follow close behind. Nights at Nana's remain as past reflections. And orders to "brush your teeth!" are extinct.
But there was a time when Nana's house rocked with sleep-overs, DVD movies, craft making, card games, basketball, baseball, tic-tac-toe, popcorn, ice cream, cookies, and an all-time favorite snack–graham crackers and milk. Day trips to the park, beaches, rip-sticking, and theater presentations are fond memories. Warmed bath towels awaited them for after showers or oatmeal soaks, and chicken noodle soup was delivered on a tray when ill.
The house is quiet now but filled with their growth spurt pictures. My two cats have staked claim to the special bedroom, and a writing desk has replaced the dollhouse. Maybe someday one or all will sit down and pen their memories at Nana's.
Proverbs 22:6 (NKJ)
Train up a child in the way he should go, and when he is old he will not turn from it.