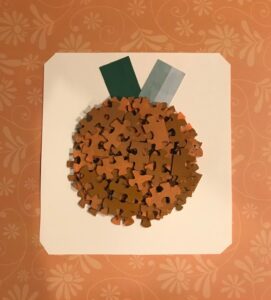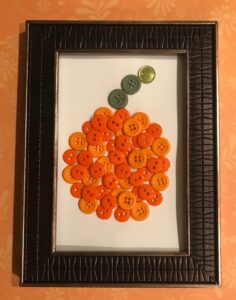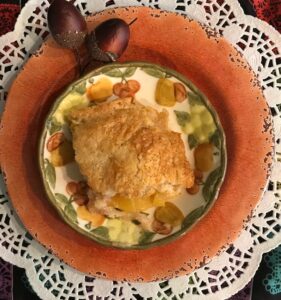 I had fun creating two inexpensive and easy puzzle and button pumpkin crafts for children. Adults will like these too. I also put together a quick peach cobbler that's perfect for this time of year. The recipe is at the end of this post.
Puzzle Pumpkin
Supplies needed: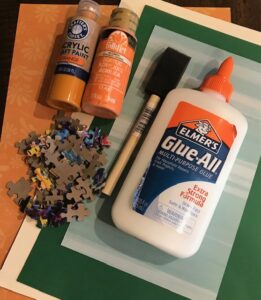 Puzzle pieces (If you have a missing piece puzzle, perfect!) I purchased a small puzzle from the Dollar Tree.
Cardstock and ribbon – I used a file folder for the base and cardstock in place of the ribbon stem.
Glue
Craft paint – I chose two different colors which made a pretty pumpkin.
Sponge brush
Paint the underside of puzzle pieces and dry on wax paper. Then glue and layer pieces to form a pumpkin.
Button Pumpkin
Supplies needed: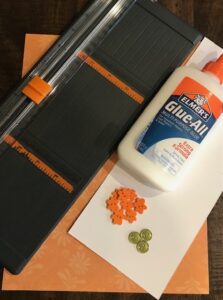 Frame (I purchased mine from the Dollar Tree)
Cardstock
Buttons
Glue
Paper Cutter
Cut a piece of cardstock or material of choice to fit the frame and design your button pumpkin. Dry completely before framing.
Easy Peach Cobbler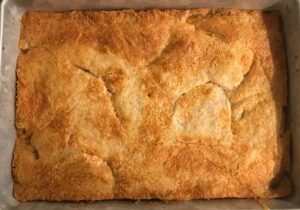 9 x 13 pan – Preheat oven to 350 degrees
1 stick butter
2 cups flour
2 cups sugar
5 teaspoons baking powder

1

and 1/2 cups milk
4 cups of sliced peaches – I shake a small amount of cinnamon and sugar over the peaches.
Melt butter in pan.
Stir together dry ingredients. I always add a touch of cinnamon.
Add milk and stir until just mixed.
Pour mixture over butter. Top with peaches and bake 45 minutes +
Enjoy!