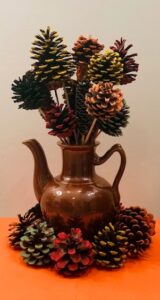 I found a great pinecone craft on Pinterest and tweaked it to make it easier for children. The pictures on my post were created by me. I've also included a delicious Autumn Soup recipe.
I purchased a few bags of pinecones from a craft and hobby store. Most stores offer coupons to cut your cost. If you have a yard full of cones, they need to be washed and baked in the oven to get rid of little critters. Just google directions.
Below are items I used to create these pretty cones. Cones without skewers are easier for children. They can fill a bowl or basket with their creations.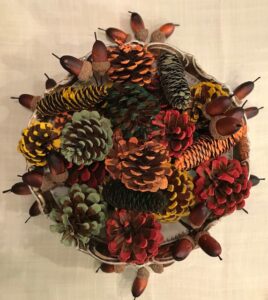 If you plan to use skewers, you'll need a drill and a 3/16 inch drill bit to create a hole in the bottom of the cone for the skewer. I used a flat-edge screwdriver to whittle mine. Hot glue the flat end of the skewer to the cone.
You can fully dip the pinecones in paint or just tip the edges. Dry on wax paper.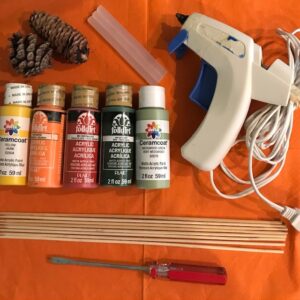 I made this delicious Autumn Soup recipe that a friend posted on Facebook. I filled my Crock-Pot with all the ingredients and cooked on high for an hour and half, then on low for six hours. If you are cooking on low, about 8-9 hours.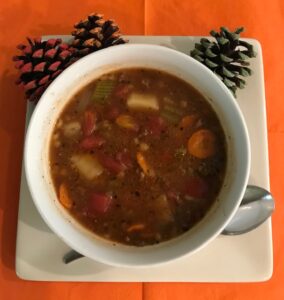 Retrieved from:  Food.com
Autumn Soup
1 pound pre-cooked ground beef
1 cup chopped onion
4 cups water
1 cup chopped fresh carrot
1 cup chopped celery
1 cup chopped potato
1 (28 ounce) can tomatoes
1/4 cup barley
1 teaspoon salt
1 teaspoon black pepper
1 teaspoon Kitchen Bouquet
2 bay leaves
1 teaspoon sweet basil
1 beef bouillon cube
Combine all ingredients in a large kettle. Cook until vegetables are tender.
Slow cooker on low: Eight to nine hours.
Enjoy!