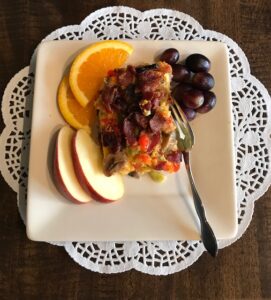 This is a delicious Breakfast Bake and would be great for Father's Day. I make it when I host Christmas morning brunch.
Recipe
Two 8 x 8 pans (lightly sprayed)
8 beaten eggs, add four cups milk
2 boxes (bags) salad croutons (one for each pan)
Divide egg mixture evenly and pour over croutons
Top with:  shredded cheese, chopped onions, mushrooms, and chopped green and red pepper
(you can tweak your toppings)
Cooked and crumbled bacon goes on last
Bake 350 degrees for 50 minutes or until knife comes out clean. Cool slightly before serving.
Happy Father's Day!