Guest post by Beverly Robertson, author of Bible Brides: Trials and Triumphs
My friend, Beverly, worked on a church garden given from her mother's memorial fund.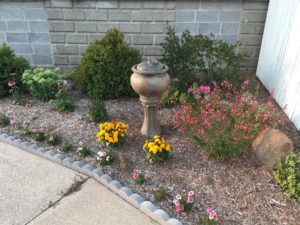 Gardens are special and relaxing. Their beauty can brighten the spirit. That's why I'm glad my mother's memorial gift was used to create this charming spot. She loved birds, flowers, and giving to others. Mom would have been pleased this plot honors all members who have gone to be with the Lord.
The vegetation had been removed when the foundation was repaired. So we brought in black soil and planted shrubs and a variety of flowers. An attractive boarder framed the garden with plenty of added mulch. My family was to find a bird bath. Then a dedication would follow.
My siblings were all here for the celebration. No small feat as they came from far away, one even out of the country. Just the day before the dedication, we found a fountain decorated with birds where water bubbled in the middle. We liked this better than a bird bath, and a member wired it with a timer.
Many people have remarked how soothing and enjoyable it is. We live such hurried and stressful lives anything that can bring relief is a blessing. If one stops to listen to the gurgling of water and view the beauty of flowers and greenery, it can calm the soul.
You can learn more about Beverly at: http://www.authorbevrobertson.com
robertdb@speedconnect.com