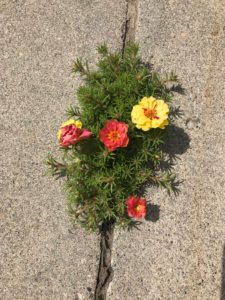 You can imagine my surprise when I found the drought resistant Moss Rose (Portulaca) flower growing in the cracks of my driveway. But flourishing surrounded by cement? When my Master Gardener friend, Becky, stopped in, I asked how this could be. She informed me rain, birds, and wind can carry seeds to different locations. I had already noticed several Moss Rose plants heartily growing in an area with my perennial Hens and Chicks. These annuals had been planted the previous year then tilled under after the frost.
I've tried very hard not to disturb or drive over the Moss Rose, and hope the flowers will continue to grow and bloom until frost.
This reminds me of God's grace and love. He sees the beauty amid our imperfections.