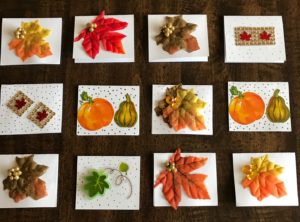 I previously wrote a post based on my friend Ruth's mission project. The auxiliary she belongs to created tray cards for the Veterans Hospital. I was so touched by this project that I created Thanksgiving tray cards for a nursing home facility.
The tray cards can be crafted to uplift hospital patients, residents in assisted living facilities, or shut-ins. You may have an idea of your own.
I made extra tray cards for my Thanksgiving gathering. I'm leaving the inside blank and will ask everyone to write something they're thankful for. I plan to collect the cards and do the same next year until the cards are full.
I also distribute community service hours through my church for students. This is a great project for them. When they create the artwork, it adds a personal touch.
Instructions are easy.
Blank index cards
Markers – pencils – pens – glue
Stickers – crafting leftovers – imagination
Fold the index card in half (Ruth made smaller ones).
Write a note inside to wish the recipient a blessed holiday, get well thoughts, or thank a Veteran and wish them a happy day. Smiley faces are easy to create.
Decorate the front of the card.
I delivered over 100 tray cards to a nursing home facility. The activities director thanked me for the thoughtful idea. She informed me she would be working Thanksgiving Day and the cards would be put to use.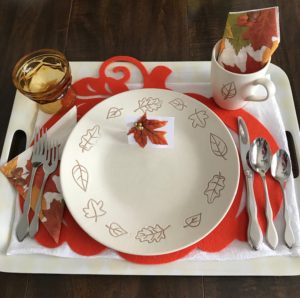 I'm already creating Christmas tray cards.
Have a blessed Thanksgiving!