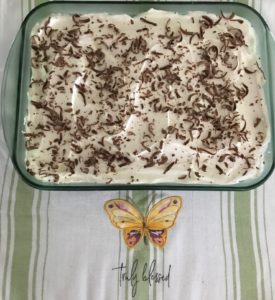 I'm sharing a Chocolate Cheesecake recipe I posted a few years ago. It's a wonderful dessert for any occasion–a summer favorite.
The recipe card is difficult to read. I've typed it below.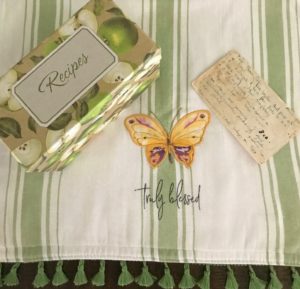 Chocolate Cheesecake
       (1)  Mix together and press into a 9 x 13 pan. Bake 10 minutes at 350 degrees and cool.
        1 cup flour
        1 cup chopped nutmeats
        2 sticks softened margarine
      (2)  Mix and spread over cooled crust.
        1  8 oz. softened cream cheese
        1 cup cool whip
        1 cup powdered sugar
      (3)  Mix and spread over cream cheese mixture.
        1  3 oz. box instant vanilla pudding
        1  3 oz. box instant chocolate pudding
        3 cups milk
       Top with cool whip and shaved Hershey bars. Refrigerate.
      Enjoy!