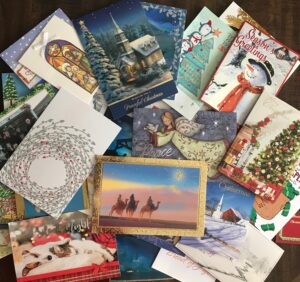 Please hang on to your 2020 Christmas cards. I have some great ideas how they can be put to use.
My cousin, Sally, repurposes them. For the last several years, she sends them back as a postcard with her Christmas message. I love this idea, and it's so practical. Below is a sample of how she prepares the card. Make sure to check with your post office for the appropriate size.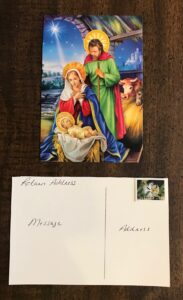 Christmas cards can be framed, turned into bookmarks, trimmed down to make Christmas gift tags, and ornaments. My friend, Julie, made a Christmas ornament with a canning jar band and lid. I loved this idea too. When I went to purchase bands and lids, I couldn't find them. Many people gardened this year and canned their harvest. Bands and lids were impossible to locate. But, wait. I came up with an idea. Inside the Grands Cinnamon Rolls is an icing packet. The cover is just the right size for an ornament. Even though it doesn't have a band, it will work fine. I also think the icing containers would make great circle cookie cutters or storage for tiny items. It's so much fun to repurpose!
While you take down Christmas decorations, think about the many ways we can repurpose used items.
Happy New Year!