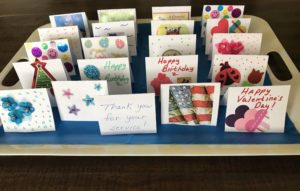 My friend, Ruth, worked on a tray card project with her local auxiliary. The women made hundreds of cards and then delivered them to the Veterans Hospital.
When Ruth told me about this wonderful mission, I immediately liked the idea. It's a great project for children, students seeking community service hours, and church groups. Not only that, but it takes little investment, just love.
Upon my request, she sent me a letter with samples and directions:
1.    Blank regular-size index cards
2.    Colored pencils, markers or crayons
3.    Both regular and foam stickers, silk flower remnants, clip art, pictures, and whatever materials you have available will work.
4.    Fold the index card in half, decorate the front, and write thank you for your service on the back. You can also print the thank you on address labels.
What a nice way to brighten a Veteran's day! The tray cards can be made for holidays or any special occasion. And when children decorate with their own personal artwork, it makes the card even more memorable.
Please check with your high school to ensure this is an approved community service.
This is also a great idea for nursing home residents and hospital patients.
Thank you, Ruth. I'll be contacting you soon for more ideas.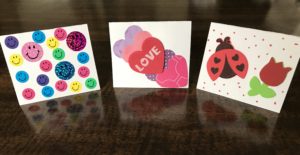 Galatians 6:9 (NKJ)
And let us not grow weary while doing good, for in due season we shall reap if we do not lose heart.