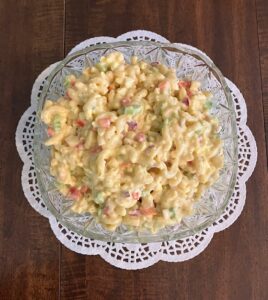 Summer is the season for family reunions and picnics. I'm sharing a delicious Amish Macaroni Salad recipe that I've made several times in the last few weeks. It's easy to prepare and will disappear quickly.
Ingredients:
2 cups uncooked elbow macaroni
3 hard-boiled eggs, chopped
1 cup diced onion
3 stalks chopped celery
1 cup diced red bell pepper
3 tablespoons sweet pickle relish
2 cups creamy dressing (Miracle Whip or Mayonnaise)
3 tablespoons prepared mustard
3/4 cup white sugar
2 1/4 teaspoons apple cider vinegar
1/4 teaspoon salt
3/4 teaspoon celery seed
Bring a pot of lightly salted water to boil.
Add elbow macaroni and cook for 8 minutes, drain and set aside to cool — do not rinse.
In a large bowl, combine macaroni, eggs, onion, celery and red bell pepper.
In a small bowl, whisk together mayo, white sugar, vinegar, mustard, sweet relish, salt, and celery seed. Pour over macaroni and veggies and mix. Refrigerate.
Enjoy!
Retrieved from:
https://thesuburbansoapbox.com/amish-macaroni-salad-recipe/