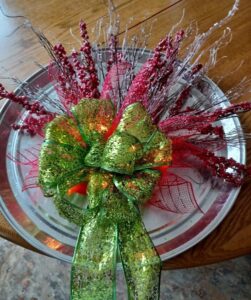 This amazing Christmas wreath, made from a repurposed aluminum fruit and veggie tray, is absolutely unique and gorgeous.
All the items to create the wreath came from the Dollar Tree. You'll want to purchase your supplies early.
After a Labor Day picnic with family and friends, my niece asked if anyone would like the empty tray. Her mother-in-law, Ruth, said she could use it to make a wreath. She creates lovely things. And she sure did!
Supplies needed:
Tray (can also be found at the Dollar Tree)
Battery operated lights on a ribbon (Ruth weaved them through the big bow)
Assortment of floral picks
Ribbon
Netting
Pipe Cleaner (to use as a hanger on the back)
Glue gun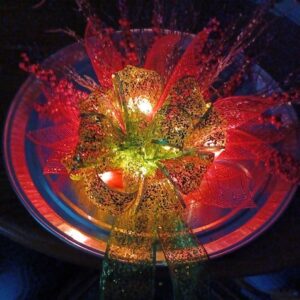 Ruth, thank you for this great idea. You're one of the most inventive people I know.
Some hot chocolate and Christmas music will make your creating time even more memorable.
Happy Crafting!