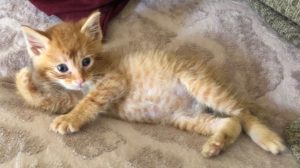 Last year at this time, my grandson and friend found a lost kitten they named One-eyed Willy. I posted a story about the adventure, and thought many of you would like to see Willy's birthday picture.
Below is the original post followed by his photo.
With urgency in his voice, my grandson called me last week and asked if I could come over to his house. He and a friend found a stray kitten while riding their bikes. According to both boys, the kitten had one eye. I stopped everything I had been doing and drove at record speed to my daughter's home. My grandson's friend along with his friend's brother and sister stood wide-eyed watching my daughter assess the health condition of a tiny orange fur ball, already confirmed a male, and named One-eyed Willy.
The kitten's eye wasn't missing, but sealed shut due to some type of infection. The little thing had sores on his behind. We decided to give One-eyed Willy a bath in Dawn Dish Soap to kill fleas. I raced back home for my cat flea comb and mite medicine as the kitten's ears were filled with mites. After an hour of removing fleas and mites in a tepid bath and rinse, the kitten began to purr. An outdoor makeshift bed was created for him along with a dish of warm milk, water, and soft cat food. He didn't seem old enough to eat solids, but scarfed down the meal.
Needless to say, after a veterinary visit, Willy is a member of my grandson's household and free from fleas and sickness.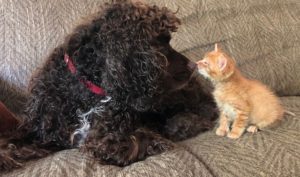 Thank you, boys, for stopping to aid a kitten in need. You could have cycled on, ignoring the situation. So many animals are left to fend for themselves.
Please neuter or spay your pets, and when seeking a furry member for your home, check out local pet rescue adoptions and the Humane Society. This little guy will be forever loved.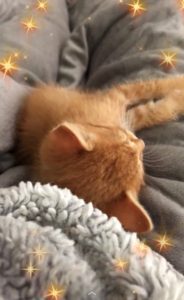 Willy today.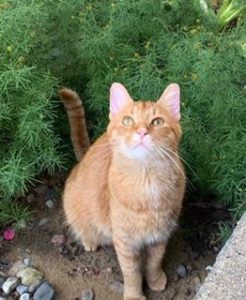 Luke 19:10
"For the son of man came to seek and save the lost."