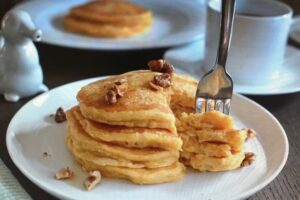 Whether your children are in school or studying online, sweet potato pancakes are a nice alternative breakfast menu. And with the cooler weather approaching, this tasty dish will hit the spot.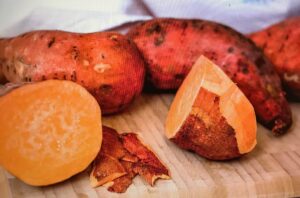 Many times I've made pancakes and sausage as a dinner menu, but haven't tried a sweet potato pancake recipe.
Sweet potatoes are relatively high in fiber, an excellent source of beta carotene, vitamin C, and potassium. For more nutrition facts visit:  https://healthline.com/nutrition/foods/sweetpotatoes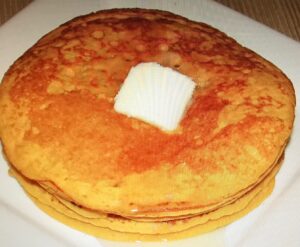 Below is a sweet potato pancake recipe that I retrieved from: https://shewearsmanyhats.com
Sweet Potato Pancake Recipe
These pancakes are full of cinnamon and ginger and sweet potato goodness.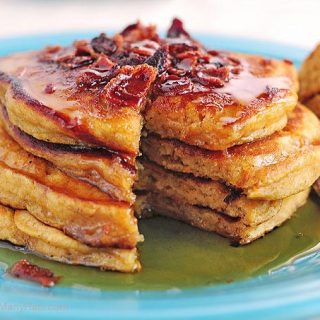 2 3/4 cup all-purpose flour
3/4 teaspoon salt
6 tablespoons dark brown sugar
3/4 teaspoon baking soda
1 1/2 teaspoon baking powder
3 cups buttermilk
3 eggs
2 tablespoons salted butter, melted
1 cup mashed baked sweet potato
2 tablespoons honey
1 1/2 teaspoon ground cinnamon
3/4 teaspoon ground ginger
additional butter for pan
Whisk together flour, salt, sugar, baking soda, and baking powder. Set aside.
In a separate bowl, whisk together buttermilk, eggs, and melted butter. Stir in sweet potato, honey, cinnamon, ginger and mix well.
Add wet sweet potato mixture to the dry mixture. Combine well, but don't over mix. Batter should still be slightly lumpy. If time permits, allow batter stand for at least 30 minutes (the perfect time for enjoying a cup of coffee).
Heat skillet over medium heat. Add enough butter to thinly cover pan. Ladle the batter 1/3 cup at a time. Cook pancakes until done and slightly browned on each side. Repeat, cooking pancakes in batches adding butter to pan as needed.
Enjoy!