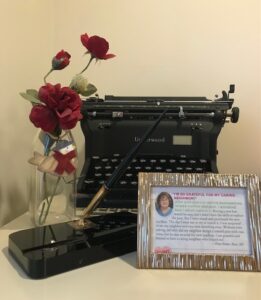 I pulled the knit hat over my head, slipped on boots, and ran outside without zipping my jacket. A cold, snowy day, I crossed the road to the get the mail and rushed back. Next to my garage door sat a package. The return address label identified the sender as my writing friend, Deb, who lives across the state. I hurried to open the box. Inside, displayed in a beautiful gold frame, was my first published magazine piece. I jumped with excitement!
I grabbed my cell and texted her a thank you. This is one of the most thoughtful gifts I've ever received. You see, being a writer isn't easy. And it's even tougher now because authors need a major platform to get a publisher interested in their work. And rejection, well, it seems to be my middle name.
I had planned to start 2022 with a resolution, like losing weight or writing every day before the neighbor's rooster crows. But my resolution has changed. Thoughtfulness is it! Webster's Dictionary describes thoughtful as considerate of others. That's who she is, and I want to be like her. So, Deb, thank you for being thoughtful and encouraging.
By the way, Deb will soon have a terrific Christian Romance novel out in the market. Maybe I can be thoughtful and share her news.
Happy New Year!