Another few weeks and summer will come to an end. Why not enjoy some beach ball fun with the kids? They're not just for the beach.
I purchase beach balls from the Dollar Tree and use a Sharpie to write names, design a smiley face, add a scripture, or happy saying.
Instead of treat bags to pass out at birthday parties, beach balls make great gifts. They can be purchased for $1 and provide exercise and fun. The birthday party host can even write "Thank you for coming to my party" with their own signature. Beach balls also make wonderful craft projects. Children will love creating their own designs and games.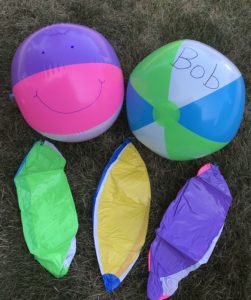 I once added a scripture on beach balls for a youth class. The kids loved them. I did the same for my neighbor children, and with my best volleyball serve, tossed them over the fence.
If your children are getting antsy, pick up some beach balls and markers, turn on the sprinkler system, or give them a water hose, and watch their afternoon fly by.