It's Apple Season!
Here's a fun apple craft for children and a yummy apple cake recipe. 
I tweaked the craft for a church preschool class and included a scripture from Psalms 17:8. 
Keep me as the apple of your eye.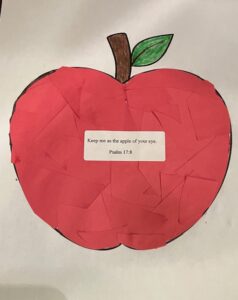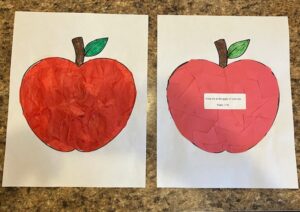 Supplies needed: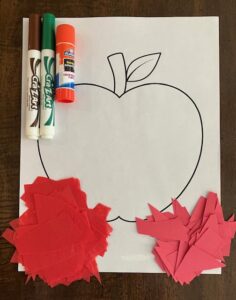 Free apple template

white paper

green and brown washable markers

glue sticks

cut up red tissue or red construction paper. (We found working with construction paper was easier for little

hands).

Spread glue inside entire apple and add odd-shaped pieces of paper. If the apple isn't completely filled in, repeat with additional glue and paper.
Have Fun!
Apple Cake Recipe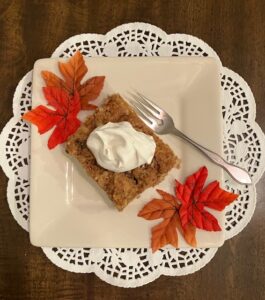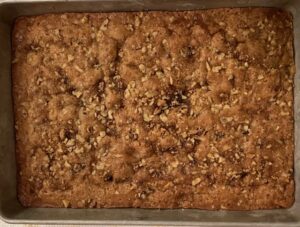 I believe the apple cake recipe is from my mother-in-law who passed away several years ago. She made the best desserts. 
1 cup shortening

1 cup white sugar

1/2 cup brown sugar

2 eggs

1 cup milk

1 teaspoon vanilla

1 teaspoon salt

1 teaspoon baking powder

1 teaspoon soda

1 teaspoon cinnamon

1 teaspoon nutmeg

2 and 2/3 cup flour

2 cups raw diced apples
Topping: 1/2 cup brown sugar and 1/2 cup chopped nuts
Mix together dry ingredients and set aside.
In a large bowl, beat shortening and sugars then beat in eggs. Add milk and vanilla, beating well. Stir in dry ingredients (blending well.) Fold apples in last. Spread in pan and sprinkle with the brown sugar and nut mixture.
Grease and flour the bottom of a 9×13 cake pan. Bake at 350 degrees for 40 minutes. My cake was done in 25 minutes, so check often. Do not overbake. If toothpick in center comes out clean, cake is done.
Top with a scoop of vanilla ice cream or a dollop of whipping cream–a must.
Enjoy.